What is the Arkansas State Dinosaur
If you were presented with a list of dinosaur names ( and we have one here on the site) you would not need many guesses to choose which dinosaur Arkansas has as its state dinosaur. Named after both the state it was found in, and the man who discovered it it is the only fossilized dinosaur bones found in the state. We take a look at some details below.
Arkansaurus fridayi is the state dinosaur for Arkansas. High School Student Mason Orey suggested it was a great candidate for the states 25th Symbol. it was formally adopted in February 2017. it is named after both the state of Arkansaurus and the man who discovered the fossils.
The name was initially suggested by James Quinn but due to his untimely death was kept as a nomen nudem until 1998 when published for the first time and the dinosaur was officially described in 2018, over 40 years after its discovery by Rebeccas Hunt-Forester and James Quinn ( posthumously)
Arkansaurus: The State Dinosaur of Arkansas
We have some quick facts about the Arkansas State dinosaur, the Arkansaurus below for you and have included the most important facts in a table to make access easier as well.
Arkansaurus Quick Facts
Hadrosaurus resembled an iguanodon type dinosaur and was a large herbivore that lived in what is now North America. We have some facts about the Hadrosaurus foulkii below.
The Arkansaurus fridayi was an ornithomimosaurian dinosaur. these were similar in appearance to modern day ostriches.
It wa found in 1972 by service station owner Joe B Friday. Who along with the state of Arkansas, appears in the name of the dinosaur.
The actual official naming of the dinosaur did not occur until 1998 when Angela Braden published the full name Arkansaurus fridayi.
It would likely have been an omnivorous dinosaur, eating insects small lizards and plants.
It would have been 6 to 15 feet long, 2 to 4 metres long.
Like other members of the Ornithomimosaur family it would have been a fast and agile runner.
It is only known from partial remains of claws and foot bones.
Arkansaurus were likely social animals that lived in herds.
The Arkansaurus Fridayi was designated the official state dinosaur of Arkansas in 2017.
The Name Arkansaurus has four syllables and is pronounced like this Ar – Kan – Saw – Rus
| | | | | | | |
| --- | --- | --- | --- | --- | --- | --- |
| Dinosaur Name | State Dinosaur of | Length | Height | Weight | When Lived | When and where Discovered |
| Arkansaurus | Arkansas, 2017 | 6-15 feet (2-4 metres) | 8 feet (2.5 metres) | up to 1000 lbs 500 kg) | Around 100 million years ago | Arkansas 1972. |
Why is Arkansaurus the State Dinosaur of Arkansas?
While the name Arkansaurus fridayi was not published until 1998, despite being suggested in 1977 ( more on this below) it again took another almost 20 years to be considered as a state dinosaur.
In January 2017 a bill was submitted by Greg Leding to put forward the arkansaurus as the state dinosaur of Arkansas. Although submitted by Leding, the idea actually came from a school student – Mason Oury – like many other state dinosaur ideas. .
The presentation to the legislature was a success, arguing that Texas and Missouri have state dinosaurs, and the Arkansaurus was of course both found in the state and named after the great state of Arkansas.
So that same year Arkansaurus became the 25ths state, 25th state symbol and was named as the state dinosaur of Arkansas.

Where was Arkansaurus discovered?
It would not take to many guesses to correctly guess where the Arkansaurus was first discovered. The clue, as they say, is in the name. (even though the last name is fridayi, it isn't because it was discovered on a friday!)
The Arkansaurus Fridayi was discovered in August 1972 when Joe Friday ( hence the name!) discovered some fossilized bones in a ditch near his gas station in Lockesburg Arkansas. The bones were not immediately recognised to be Dinosaur bones, and it took a few months for them to find their way to James Quin, a paleontologist at the University of Arkansas.
In 1973 it was thought that the fossilized bones came from a ornithomimus type dinosaur and they went back to the find site to see if any more could be uncovered. Although Quinn has intended to name the dinosaur Arkansaurus fridayi, he unfortunately fell to his death on another fossil hunt in Nebraska and the name remained a nomen nudem for another 21 years!
Eventually in 1998, arkansaurus fridayi being official when angela Braden published it.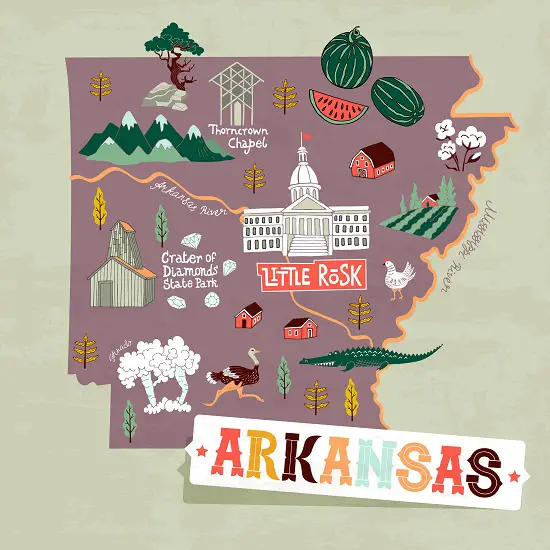 What is the State Fossil of Arkansas ?
Arkansas does not have a legally verified state fossil as of this moment. We will update when that happens. However, as many states have both their dinosaur and their state fossil as the same symbol then Arkansas could quite easily follow suit.
With the Arkansaurus being found in Arkansas it makes perfect sense to us! of course there are other options as well. Arkansas also has had fossils of dinosaur footprints discovered within the state.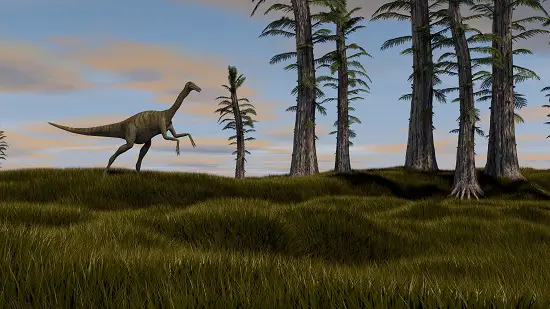 These footprints are thought to be of herds of sauropods that were, due to their number, likely migrating through the area. they were discovered in 1983 by Jeffery Pitman who was a University student. They are estimated at being 100 million years old.
It would not be the first state to adopt dinosaur footprints as a state symbol in fact, if Arkansas did decide to go in that direction, they would join Connecticut as having dinosaur footprints as a state fossil.
you can check out the other state dinosaurs, those that have adopted one as a state symbol, here in the following list.
You can also read more about State dinosaurs in our US State dinosaur page as well linked here and below.
Conclusion
Although the Arkansaurus story has a touch of tragedy in it, with James Quinn falling on another fossil hunt and the naming of Arkansas's only dinosaur being delayed, it did eventually get that name, and it is certainly a name that would always lead it to become the state dinosaur of Arkansas.
I mean it is the only dinosaur discovered in the state so far, but even if it was one of hundreds, with a name like Arkansaurus there really would be no other competition!
References
Hi, I am Roy Ford a General Studies and English Teacher who has taught all over the world. What started as a fossil collection became a great way to teach, motivate and inspire students of all ages and all over the world about dinosaurs and from that and children's love of dinosaurs came the site dinosaur facts for kids, a resource for all ages.