8 Best Dinosaur Computer Games
Dinosaurs have held the fascination of children and adults alike for years. With the emergence and popularity of PC gaming, there's no wonder there is a massive demand for dinosaur computer games. From Games like The jurassic World Evolution series where you get to play John Hammond, to the ARK Survival games where youg et to ride a T-Rex Dinosaur Computer games have something for everyone!
The best dinosaur games for PC include:
Jurassic World Evolution
Ark: Survival Evolved
Monster Hunter: World
LEGO Jurassic World
The Isle
Saurian
Second Extinction
TheHunter: Primal
If you're looking for your next favorite PC game, you may just find it on this list! Our list has it all: from puzzle games to first-person shooters, simulation, and survival games. We have our top dinosaur computer game pick below, but the others are also great, each one offers a different style and gameplay.
Our Top Pick: Jurassic World Evolution 2
It has to be Jurassic World Evolution 2, the fact that we liek simulation games might be a factor but the graphics, the depth of gameplay, the sense of achievement means we keep going back to it.
we even use the Graphics for some of our Dinosaur fact youtube videos ( see below) You can do anything you want in the game and that freedom is rare! We go into more detail below.
1.   Jurassic World Evolution 2
Based on the Jurassic World movie released in 2015, Jurassic World Evolution has quickly become one of the most popular dinosaur games on the market – and for a good reason.
This simulation game lets players build the theme park of their dreams, but with the added twist that all of the park's attractions include dinosaurs. By sending digging teams out to collect fossils, players can hire researchers to reconstruct the DNA and breed dinosaurs to help populate their park.
However, managing your park comes with its unique challenges. Players will need to properly build enclosures and care for their dinosaurs to prevent their creations from running rampant and causing a large-scale disaster!
2.   Ark: Survival Evolved
Imagine suddenly finding yourself stranded on a mysterious island, relying only on your logic and adaptability to survive. Set in an open-world environment, Ark takes this concept and injects the scenario with even more excitement for players by adding dinosaurs to the mix!
Players will need to learn to hunt, harvest, create and withstand harsh conditions to survive. But that's not all! Players also need to work with (and sometimes against) the dinosaurs lurking in every corner of the island they now call home.
With the challenge set and other players working to build their own civilizations, only one question remains: can you survive the island of Ark?
3.   Monster Hunter: World
If you're looking for a dinosaur game with a touch of fantasy, then look no further! Monster Hunter: World is unlike many of the other dinosaur games on the market because the beasts within these games aren't just dinosaurs.
Instead, this roleplaying adventure game introduces creatures that are a hybrid between dinosaurs and dragons, with players thrust into the responsibility of hunting and killing the creatures.
Players will also need to gather resources and the best weapons, equipment, and armor available to give their customizable characters the best chance at survival – or, at least, to keep all of their limbs intact!
4.   LEGO Jurassic World
We couldn't make a dinosaur-themed game list without at least mentioning LEGO's interpretation of the Jurassic Park franchise. This puzzle game packs tons of action and adventure into endless hours of family-friendly fun with classic LEGO animation!
Initially released in 2015, this game has both single and multiplayer functionality, so players can work together to solve each of the twenty individual levels.
LEGO Jurassic World is the perfect game to play with friends or family. It also has over 100 unlockable players to choose from.
5.   The Isle
The Isle is a survival game that allows players to assume the role of either a herbivorous or carnivorous dinosaur. With the sole purpose of survival, players will need to search for food, evolve, and fight off other dinosaurs.
This online game will immerse players in the incredible – and sometimes daunting – world of dinosaurs. With the constant threat of other dinosaurs, they'll need to be strategic and use their cunning to come out on top as king of the dinosaurs.
While The Isle had its initial release in 2015, developers are working on adding even more incredible features to the game. These features include creating more advanced AI for even more realistic dinosaurs and gameplay for players to enjoy.
6.   Saurian
Ever wondered what it would be like to live as a dinosaur? Saurian is a dinosaur simulation game that starts with the player being hatched as a newborn dinosaur.
While controlling their baby dino, players will need to help their character survive and evolve through foraging for food and fighting off predators. As the dinosaur grows and develops, so will its skills and abilities. And, with more capabilities comes better chances at growing into a fully developed dinosaur!
Saurian is a relaxed, casual survival game with beautiful and intricate environmental designs. It is also scientifically and historically accurate for all you dinosaur buffs out there!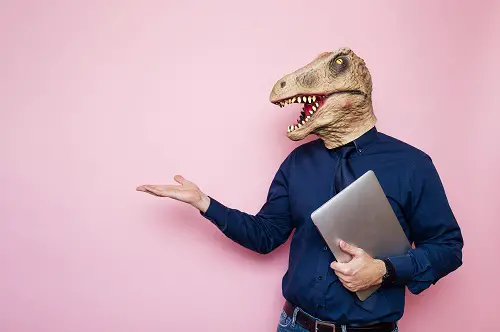 7.   Second Extinction
Second Extinction is an early access PC game that combines a co-op first-person shooter with the excitement of fighting for your life against a horde of blood-thirsty dinosaurs.
Second Extinction can be played solo or in multiplayer mode. Still, the game's objective remains constant: surviving in a series of environments crawling with mutated dinosaurs.
While in-game, players will receive multiple objectives in order to conquer their enemy and will need to be careful if they want to live to see another day!
Both fast-paced and exciting, this dinosaur game is the ultimate go-to choice for playing with friends on game night.
8.   TheHunter: Primal
TheHunter is a first-person hunting game that simulates the experience of hunting wild animals. In TheHunter: Primal, players are no longer just hunting game animals. Instead, their prey is much, much bigger.
Players will need to stalk and sneak up on dinosaurs to get the perfect shot, and the addition of dinosaurs into the game makes the thrill of the hunt all the more exciting.
With different weapons and supplies, TheHunter: Primal can be enjoyed as a casual, slow-paced solo game or as a competitive hunting competition among friends.
Conclusion
So, there you have it! Whether you're a dinosaur enthusiast, or a casual gamer looking for your next favorite PC game, our list of the best dinosaur computer games has you covered. With different genres, play styles, and hundreds of dinosaurs with gorgeous visuals, you can be sure that these games will keep you entertained for hours on end.
References
Hi, I am Roy Ford a General Studies and English Teacher who has taught all over the world. What started as a fossil collection became a great way to teach, motivate and inspire students of all ages and all over the world about dinosaurs and from that and children's love of dinosaurs came the site dinosaur facts for kids, a resource for all ages.