here on this flying dinosaurs / pterosaurs beginning with Q page you will find a flying dinosaur that thanks to Jurassic World dominion in 2022 and the dinosaur documentary Prehistoric Planet 2 which we have articles on here on the site.
It has catapulted its self into the public eye. we wont mention it yet but you are pretty sure you will know what it is!
Check out more Flying dinosaurs and Pterosaurs below!
A B C D E F G H I J K L M N O P Q R S T U V W X Y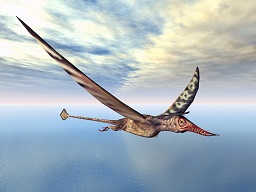 Name: Qinglongopterus
When Lived: Late Jurassic
Wingspan: 6 feet
Discovered: 2012
Where: China
Diet: piscivore
Qinglongopterus
Name meaning: Qinglong finger
Qinglongopterus, a pterosaur from the Late Jurassic period, was discovered in China's Liaoning Province.
With an estimated wingspan of about 2 meters (around 6 feet), it was a relatively medium-sized pterosaur.
Although its diet is not well-documented, it likely included fish and small animals. Qinglongopterus had a lightweight body, elongated wings, and sharp, pointed teeth and beak
it was very similar to the Rhamphorhynchus and probably had a similar diet. -fish! it has been suggested that Rhamphorhynchus  may have evolved from Qinglongopterus
More Information
---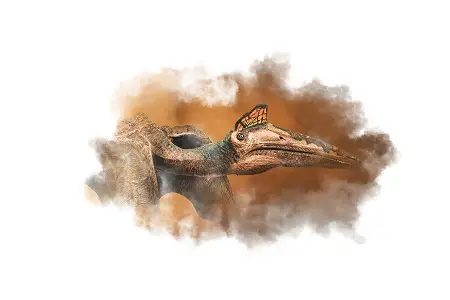 Name: Quetzalcoatlus
When Lived: Late Cretaceous
Wingspan: 33 feet
Discovered: 1971
Where: North America
Diet: carnivore
Quetzalcoatlus
Name meaning: feathered Serpent God
Quetzalcoatlus, a pterosaur from the Late Cretaceous period, was discovered in North America, specifically in Texas.
With a wingspan estimated to be over 10 meters (33 feet), it is one of the largest known flying creatures to have ever existed. and features in the Jurassic World Dominion movie as well as the prehistoric Planet Documentary
Although its diet is debated, it likely included fish and other small animals and maybe even carrion.
Quetzalcoatlus had a long, slender neck, a toothless beak, and weighed about 500 lbs., allowing it to achieve remarkable flight capabilities
More Information
https://dinosaurfactsforkids.com/30-facts-about-quetzalcoatlus/
Conclusion
Although there are only two pterosaurs / flying dinosaurs beginning with Q, one at least is world famous!
The Quetzalcoatlus is if no the biggest then one of the biggest flying animals ever, and you can see this in action in movies and documentaries as we highlighted above.
Check out more Flying dinosaurs and Pterosaurs below!
A B C D E F G H I J K L M N O P Q R S T U V W X Y
Hi, I am Roy Ford a General Studies and English Teacher who has taught all over the world. What started as a fossil collection became a great way to teach, motivate and inspire students of all ages and all over the world about dinosaurs and from that and children's love of dinosaurs came the site dinosaur facts for kids, a resource for all ages.