What To Take Fossil Hunting (For Kids)?
There is nothing more exciting, especially when you are a child, than the thought that you might find a new and never before seen dinosaur fossil. Taking to the field to discover these fossils can be such an exciting experience, and making sure that you are entirely equipt for this adventure is very important. So what do you need to take with you when you go fossil hunting?
Ensuring that you are decently clothed, have a hat, sunblock, wind, rainproof jacket, and comfortable enclosed shoes is the first thing you need for fossil hunting. Water and food are also vital. Other equipment includes a small paintbrush, GPS, camera, toilet paper, and plastic carrying bags.
Knowing what you need to take with you into the field to search for fossils is just the first part of the adventure. You will also need to know where to go to search for these fossils, some field safety guidelines, how you can tell if you have found a fossil, and what to do if you have indeed made a discovery.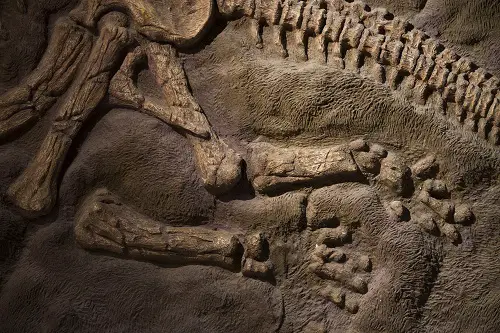 What Equipment Do You Need To Go Fossil Hunting?
Fossil hunting requires you to go outdoors, sometimes for hours, while you search the ground for those hidden gems. For this reason, it is best to ensure that you have the right equipment and provisions before you head out.
Clothes
Ensuring that you have dressed appropriately is the first point of call when fossil hunting. Hats, sunblock, and comfortable closed shoes are essential. Packing in a lightweight, rain and windproof jacket is also a good idea if the weather changes while you are outdoors.  
Provisions
You might not think that food is equipment, but it is one of the essential pieces of your fossil hunting arsenal. When heading out into the field to fossil hunt, you might not know how long you will be there.
Therefore you must carry enough water and food to ensure you are adequately catered to while outdoors. No one wants to hunt for fossils when they are too thirsty or too hungry, we want to have a wonderful time, and we need our tummies to be happy for that to happen.
Equipment
When looking for fossils, remember that you want to be delicate with whatever you might find. For this reason, carrying a paintbrush with you is the best piece of equipment for fossil hunting. If you think that you have found some dinosaur bones, you can gently brush away the sand to see what might be hiding inside.
Another piece of equipment you might find handy would be a GPS or a camera. If you see some fossils, you can record where you discovered them to report them to officials later. Dinosaur scientists or Paleontologists find this information of great help for their research or if they need to excavate to get the fossils out of the ground.
Plastic bags are great for storing fossils, and using tissue or toilet paper to wrap around the more delicate fossils is also a great idea. Remember to always label your bags with the date and location of your find. Labeling your bags can help you remember later on and help any further research.
Where Can You Go Fossil Hunting In The USA?
There are several places that you can go to and see many different types of fossils in the USA, but the question is, where can you go to discover some of your own? Let's look at two good places to go and hunt for your fossils in the USA.
Two Medicine Dinosaur Center
At this center in Bynum, Montana, there are opportunities for you to join the non-profit group and go out into the field to help search for fossils and maybe even dig up some of the dinosaurs found in the area. Previous finds include tyrannosaurus, duck-billed dinosaurs, and albertosaurus.
Lilydale Regional Park
This Park, situated outside of St Paul in Minnesota, contains exceptional examples of fossils from the Cambrian and Ordovician periods, the first two periods belonging to the Paleozoic era. You are welcome to come and search for your fossils in this Park, but you must apply for permits before collecting any fossils.
Where Can You Go Fossil Hunting In Australia?
Australia has its own excellent fossil hunting sites. If you are in the country and wish to go on an adventure, here are two great places to hunt fossils.
Dinosaur Dreaming In Inverloch, Victoria
You can head out to the rocky coast of South Gippsland and hunt for your very own fossils, including bones, teeth, claws, and feathers. The Bunurong Environment Centre caters to youngsters and runs guided tours of the area while teaching kids about geology, showing them some significant dinosaur footprints and a fossilized tree, and facilitating some cave exploration.
Dinosaur Coast In Broome, Western Australia
This coast is aptly named as it contains thousands of fossilized dinosaur footprints. This area welcomes you to go and search for new undiscovered footprints and other fossils dating back to around 130 million years ago. So grab a map and take the kids for a fossil hunt on the coast.
Where Can You Go Fossil Hunting In The UK?
There are many fossil hunting sites scattered across England. Let's take a look at two great locations to go fossil hunting.
Jurassic Coast
The Jurassic Coast is an 85 mile stretch of coastline from Dorset to eastern Devon, where you can find a spectacular array of fossils. If you feel like an educational visit, then go to the Charmouth Heritage Coast Centre, and they will instruct you on how to collect fossils safely and responsibly.
Whitby, North Yorkshire
The shore of Whitby offers up fantastic finds, including belemnites, ammonites, Ichthyosaur bones, and bivalves. This location is an excellent site for beginners to take their time and explore the area keeping a lookout for hidden fossils.
Safety Guidelines For Fossil Hunting
There are a few safety guidelines that it would be best if you followed when fossil hunting, and these include:
Always inform someone of where you are heading and when you should be back.
Never go fossil hunting on your own.
Ensure that you are carrying enough water and food for your journey.
Be aware of tides, rock slides, or mountain cliffs, depending on where you are going.
Don't go into an area that looks dangerous.
Refrain from touching animals. They could be poisonous or unfriendly.
In an emergency, call your relevant emergency responder.
Can You Look For Fossils Near Your Home?
You can find fossils almost everywhere on the tops of mountains, valleys, coastlines, and even in your backyard. The hard part will come in when deciding if what you have found is a fossil. You can follow a few processes that should tell you if what you have in your hand is a fossil or not.
Is it heavy or light? Fossils tend to be heavier than rocks or recent bones.
Is it light or dark in color? Fossils tend to be darker in color.
Is it smooth or porous? Rocks tend to be smooth, while the fossilized bone is porous.
How To Know If You Have Found A Fossil?
The best way to find out if you have found a fossil would be to take it to someone who knows about fossils, either a parent or someone at your local museum or heritage center. They will then be able to check your find correctly and let you know if it is a fossil or not.
What Do You Do If You Find A Fossil
If you find a fossil, you must ensure its safety while taking it home or to your local museum or heritage center. Wrapping a fossil in toilet paper can help protect it. Once you have it wrapped up and secured, you can place it into a plastic bag which you should label with the location of where you found the fossil and the date.
If your fossil is on the larger side and is difficult to remove from the ground, instead contact your local museum or heritage center so that they can remove it properly without it suffering any damage.
Conclusion
Fossil hunting can be a great adventure as long as you ensure that you have the right equipment, including clothes, tools, and provisions that are essential for fossil hunting. So take the family out on an excursion and see what you can find! There are some great places to go fossil hunting, depending on where you live.
References
https://www.natgeokids.com/za/discover/animals/prehistoric-animals/a-quick-guide-to-fossil-hunting/
https://www.usatoday.com/story/travel/destinations/10greatplaces/2016/06/24/dinosaur-fossil-sites/86286054/
https://www.smithsonianmag.com/travel/travel-through-time-national-fossil-day-180952992/
https://www.carsales.com.au/editorial/details/top-five-australian-dinosaur-discovery-sites-to-explore-115151/
https://australian.museum/learn/australia-over-time/fossils/sites/
https://www.premierinn.com/gb/en/news/2018/where-to-find-fossils.html
https://www.frommers.com/trip-ideas/cultural-immersion/the-5-best-dinosaur-hunting-sites-in-the-uk
https://jurassiccoast.org/visit/fossil-collecting/top-tips-for-fossil-hunting/
https://www.amnh.org/explore/ology/paleontology/finding-fossils2
https://ansp.org/~/media/Files/ans/programs/paleopalooza-2020/How%20to%20identify%20if%20you%20have%20a%20fossil.ashx?la=en
Hi, I am Roy Ford a General Studies and English Teacher who has taught all over the world. What started as a fossil collection became a great way to teach, motivate and inspire students of all ages and all over the world about dinosaurs and from that and children's love of dinosaurs came the site dinosaur facts for kids, a resource for all ages.